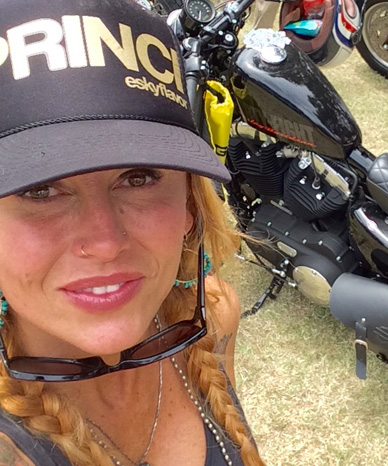 Star sign: Sagittarius
Favorite movies: Cool Hand Luke, Forgetting Sarah Marshall, Crouching Tiger, Hidden Dragon
Passes the time: On Harley Davidson, in culinary school, snowboarding, cooking, camping…
Nik is an L.A. native, born at Santa Monica Hospital. Loves to work hard, play hard, and spend time laughing with friends. Collecting art and tattoos is another way she passes the time. Nik is the founder of trim. and takes great pride in providing an open, artistic environment for stylists like herself. 24 years in the hair business, she specializes in color, but is also very well known for her no-nonsense approach to cutting. Her passion for business has shown her continued success. So much so that, in 2005, Nik took Jaimee Bush to be her partner. Nik and Jaimee are proud to have such a strong family at trim.
With two locations, Nik is a busy little bee and can be found cutting, coloring, styling 4 days a week at trim. on Rose.